---
Many of our brushes contain embedded texture patterns and settings. If you have a lot of custom brushes installed, Photoshop can become overloaded resulting in mis-matched textures, a loss of pressure sensitivity or other strange brush behaviors.

This usually results in a corrupted Photoshop preferences file.



Solution 1:
Uninstall & reinstall the affected brush set.

STEP 1.
To begin, let's make sure you have the latest version of your True Grit Texture Supply brush sets ready to install.
STEP 2.
Go to the Preset Manager (edit > presets > preset manager) and choose 'Brush' from the dropdown menu. This shows all of the brushes you currently have installed.

Find and select the affected True Grit brushes in the Preset Manager.
CC2020 users:
Brushes no longer appear in the Preset Manager. You can uninstall your brushes by selecting them in the Brushes panel (Window > Brushes) then click the delete/trash button. Proceed to step 5.
STEP 3.
Uninstall the selected brushes by clicking the "Delete" button.



STEP 4.
If you have an older version of the Beat Tones, Lithotone, Distress Press or Grain Shader brushes installed, the set may include Brush Tool Presets or Pattern Sets.

If so, Repeat steps 2 and 3 by selecting Tools and Patterns in the Preset Manager drop down (see below).

Don't worry, the re-installed brushes will work without these as long as you've downloaded the latest version in step 1.
STEP 5.
Quit Photoshop and restart your computer.



STEP 6.
Install the latest version of the affected brush (see step 1) following the instructions included in your download package.
If everything is back to normal you're good to go.

Related Article:
Keeping your brushes running smoothly.


---


Solution 2:


Uninstall then reinstall

all

brush sets.

If the problem persists, repeat steps 2 to 6 with all other brush sets, brush tool presets and patterns you have installed including the Photoshop defaults.


Caution!
If uninstalling brush sets by other brush makers, be sure to check you still have the original brush installer files or download links so you can reinstall them later. If you're unsure, save a backup by selecting the brushes and clicking the 'Save Set' button in the preset manager.

Photoshop's default brushes and patterns will automatically re-appear after restarting Photoshop so there's no need to make a backup of those.
Still experiencing brush glitches?
If uninstalling all of your brushes does not fix the problem, it's time to "go-nuclear" and reset your Photoshop Preferences.
---


Solution 3

: The Nuclear Option:
Resetting Photoshop Preferences.

We hoped it wouldn't come to this!
Having too many custom brushes installed is the most common reason for unexpected brush behaviour, it can also be the result of a corrupted Photoshop preferences file and the only fix is to reset your Photoshop preferences.
It's a little bit of a process but once you're done everything should be back to normal and your brushes will be operating as expected.


STEP 1.
Follow the manual method instructions in the Adobe tutorial video below (0:00 to 5:00). Do not use the keyboard shortcut method in the second half of the video (trust us).

STEP 2.
Quit Photoshop and restart your computer.
STEP 3.
Open Photoshop and reinstall your brushes one brush set at a time testing each set as you go.
Everything should be back to normal, however if you continue to experience difficulties please do get in touch.
STEP 4.
Finally, if you'd like to recover your default brushes (the brushes that come pre-installed in Photoshop), simply chose Append Default Brushes from the Brushes panel menu.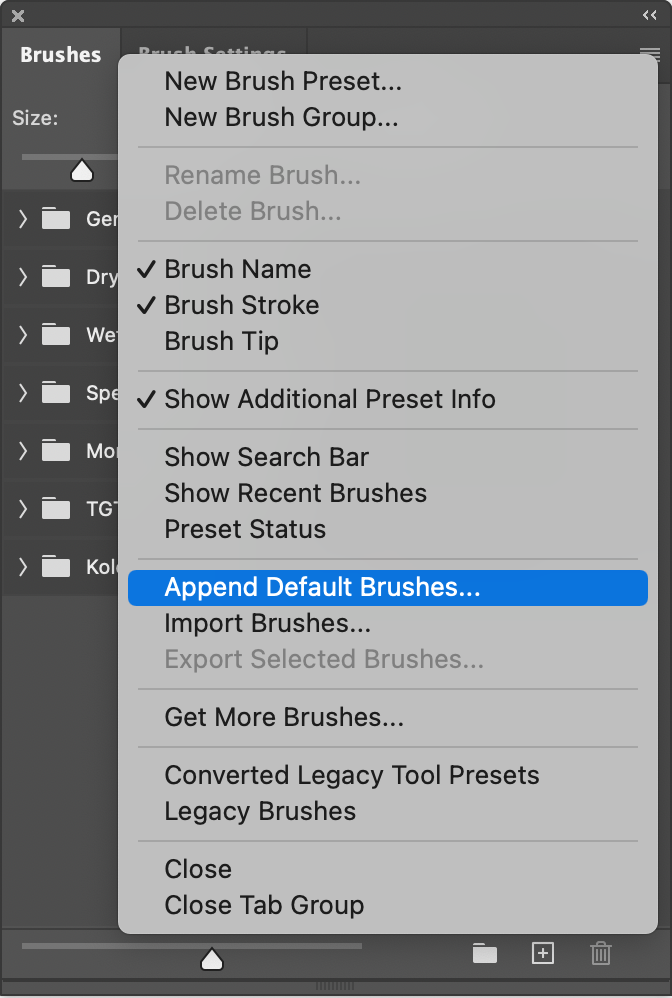 ---
Prevention is better than cure.
Practicing good brush management.
To avoid brush errors and keep Photoshop running smoothly, it's a good idea to manage your brushes regularly and only install what you need or use on a daily basis.
TIP 1:
Delete brush sets when they are not being used.
Overloading your system with brushes, patterns and even fonts that aren't being used daily can overwhelm photoshop causing preference files to corrupt. It may take an extra minute to load that brush set you need today but it will help keep Photoshop running smoothly and save you the extra hassle of resetting your preferences if things go wrong.
TIP 2:
Practice Installing and Uninstalling your Brushes and Patterns.
Installing and uninstalling brushes can seem daunting the first few times you do it but loading brushes on the fly will seem to be much less of a headache once you're familiar with the process.
TIP 3:
Keep all of your brush and pattern files in an easy to find library.
Store your brush and pattern files in an easy to find location on your hard-drive (not an external drive).
Technically, they should be saved in the Photoshop application folders as this is the first place Photoshop looks when locating missing brush files or patterns.
MAC: Application > Photoshop > Presets > Brushes/Patterns
WIN: Program Files > Adobe > Photoshop > Presets > Tools
However, this is not 100% necessary and the key thing is to keep all of your brush files in an easy to find place.
TIP 4:
Save the brushes you use the most into smaller custom sets.
We've all been there. You buy a really amazing set of 200+ art brushes and then end up using only a handful of them regularly. Those other 195 brushes sitting there are sucking down memory and creating clutter so consider saving the brushes you use regularly into their own custom set and uninstalling the complete set until you need them again.
To save a custom brush set.
Go to Edit > Presets > Preset Manager then select Brushes from the dropdown menu.
Select the brushes you want to save into a custom set.
Click the "Save Set..." button.
Delete the remaining unused brushes.