---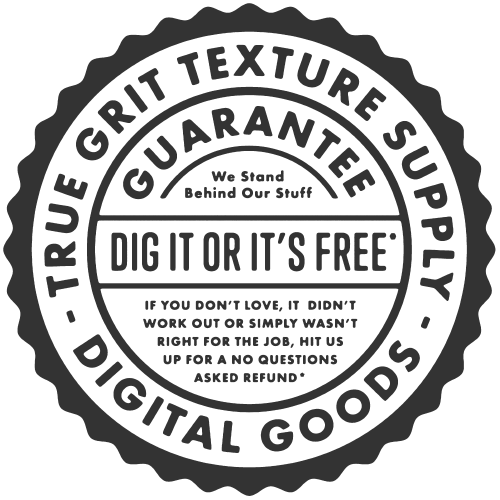 We're confident you'll love using our products as much as we enjoyed creating them but if you're not as stoked as we are, our refund policy is simple:

Try a product or two and if you're not into it, it wasn't what you were expecting, didn't work with your system or simply isn't suited to the project you purchased it for, hit us up within 7 days for a refund.
It's that easy.
---
The fine print!
Bundles not included unless otherwise indicated on the product page.
Maximum of two products per customer eligible for refund.
Valid only for products displaying the Dig It Or It's Free logo on the product page.
Refunds can be requested up to 7 days from date of purchase.
If you are experiencing technical issues we will be happy to solve them wherever possible.
However, if you still prefer a refund just say the word.
Due to the non-returnable nature of digital products, all other refunds are solely at the discretion of True Grit Texture Supply.
Any order downloaded to multiple computers from more than one IP address will not be eligible for refund.
Once approved, please allow up to 7 days for processing of your refund.
Refunds will be made via the same method as the original purchase and are not transferrable.
User license agreement is automatically void after refund.
The "Keep It Chill" clause.
We want you to be happy with your purchase and if you don't dig the product our feelings won't be hurt. However, abusive refund requests will be met with silence.
Before you fire off that angry email remember that your'e not commenting anonymously on Reddit and we're not a faceless tech corporation or the DMV. We're just this guy and a few friends doing our best to make the best texturing tools we know how.
Keep it chill and we'll make it right.